PINTEREST - Know Your Social Media!

One of the most popular social website for the business users and companies, Pinterest consider itself more that Social Media network and closer to 'world catalog of ideas' at one place. It was launched in 2010. and, since then, constantly grows with more that 400 million registered user, and more than 110 million active users. Read more about Pinterest statistics.
For those among you that do not use Pinterest – what exactly is it?
Pinterest is free to use and it requires registration. Once you became user, you can upload, save, manage, delete and sort your pins (images) as well as videos, making your own pinboards (collections). Pinboards are usually organized by a common theme. You can browse the pinboards of other users in their feed, and save those you like on your own board using the 'Save' button. With this button you can upload pictures outside of this network too, adding them to your board. With pinning items, creating pinboards and communicating with other users by sending and receiving pins, you can personalize your own 'Pin feed'.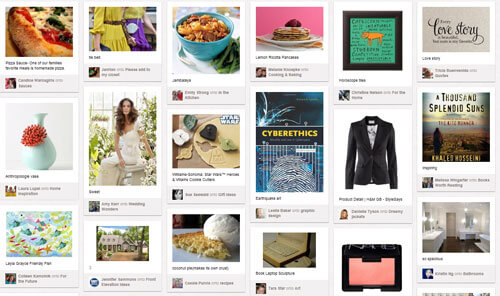 With the pins you create your virtual identity through the pinboards. Pinterest will modify a user's homepage to uphold this identity and personal interests.
There are a lot of apps that can enchant your mobile experience with Pinterest, like enlarging pictures or keeping track of your statistics.
Pinterest and business
It can be easily seen how Pinterest could be great for business pages. Pinterest allows and supports commercial pages, and it is often used for companies to promote their brands. Studies have shown that users (of Pinterest) will spend more time on company's pinboard then on actual website. Also, Pinterest is consider as best social media at driving sales, being more effective than Facebook. On this virtual store, companies can share information with users, from description, ratings, prices etc.
Pinterest has grown from photo sharing website to one of the biggest social and business network on the internet, and if you do not use Pinterest for your personal pleasure of business development, you are missing one great opportunity to be part of a wider world.
Pinterest and SEO
Like all the other big social websites, Pinterest is an important tool in your overall SEO arsenal, especially if you have business pinboard already created. You can use Pinterest to promote your brand, products and line of business and to find new and interesting items and ideas for yourself.
Like4Like.org
Social Media Marketing
is a network that will help you grow your social presence for FREE.

- We allow you to look and choose who you want to like, subscribe, follow, view, hit, share, and skip those in who you are not interested.
- We do not sell likes, subscribers, friends, followers, views, hits, and shares.
- We abide by Twitter's Rules, Facebook's Policies, Google Conditions, etc...
- We will never request passwords or cookie/session data of your social network accounts and will never post, tweet, or update status from your accounts.
- We have a strict NO Bot, NO Macro, and NO Automation policy.